Nearly one-third of the world's population is under 18 and that number continues to grow. As a teacher, I am passionate about helping students learn but I also have to prepare my classes for when they enter college or move on. Now more than ever, we need teachers who are aware of current events as well as history so our children can be prepared for what lies ahead.
"What is wrong with the American education system" is a question that has been asked for generations. The answer to this question may seem like it is not a good time to let down our students who need us the most.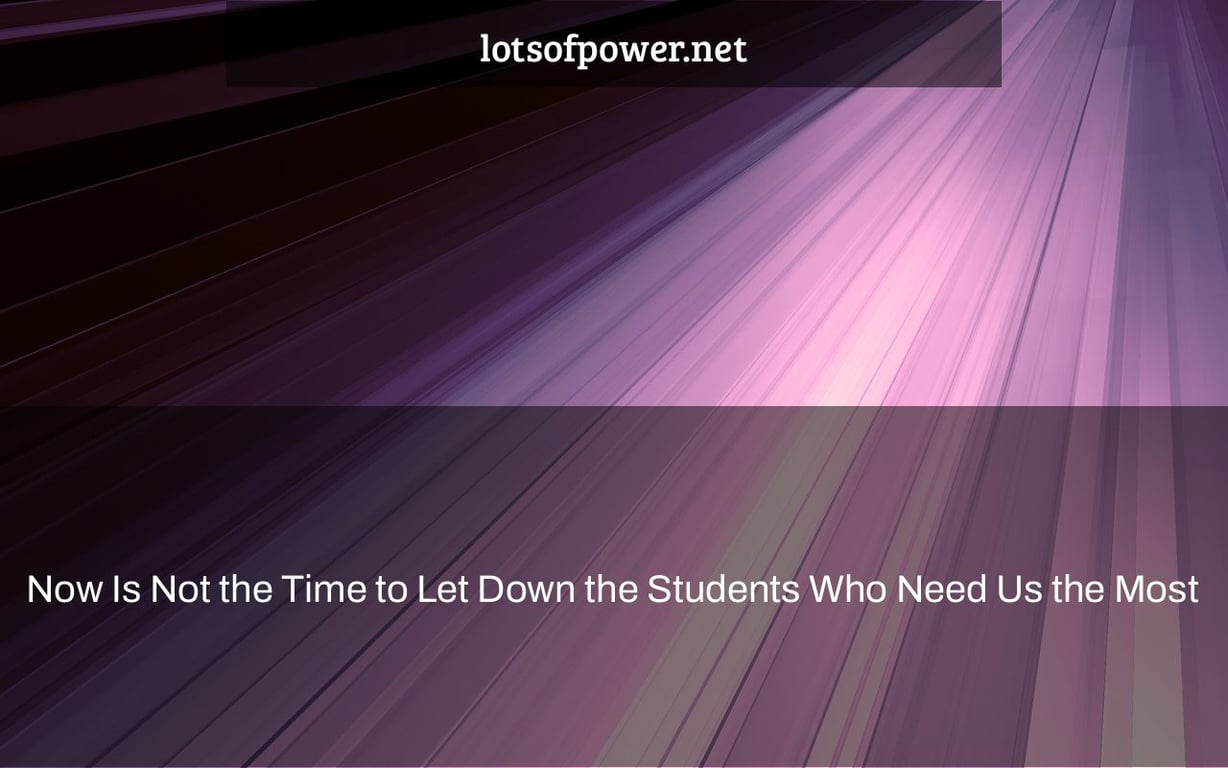 Educators are now prepared to welcome kids back to full-time, in-person teaching in the next year, after the unprecedented worldwide epidemic that interrupted not one, but two school years.
Educators are immunized, enthusiastic, and optimistic. They're looking forward to meeting all of their pupils face to face in the classroom after a lengthy time of distant learning. However, many people have been feeling worried, stressed, and overworked at the same time. Teachers' worries have only grown as a result of the Delta variation.
It's only normal that you're feeling down right now. For our country's most vulnerable kids, though, doing things right isn't a choice; it's a must.
Students and Families on the Verge of Failure
In terms of stress and interruption of learning, underserved kids have been hit worse by the epidemic. COVID-19 fatalities have been greater in neighborhoods with a larger proportion of people of color, and they have less resources to handle the lengthy period of at-home learning. Many youngsters in low-income areas had little option but to make due without appropriate online learning resources, suffer with increasing food insecurity, and persevere despite a lack of adequate health care.
At the same time, Americans are dealing with historical racism as well as trauma caused by police violence and a lack of accountability. Do you believe you've had a difficult year? Imagine coping with all of that on top of the epidemic, which has driven kids and families from low-income areas to the edge.
I've seen firsthand the inequities that our nation's underserved students face on a daily basis as the former founding principal of a charter elementary school primarily serving Latinx students on Chicago's Lower West Side, and now as the chief academic officer of an organization that develops school leaders.
Wraparound services, a whole-child approach, and rigorous academics are required for children.
I focused my work at Bartolomé de las Casas Charter School on three tenets: a commitment to rigorous academics, a holistic approach to child development, and offering wraparound services for families. I knew that by using this strategy, our school would be able to accomplish the results that our community deserved.
Because inequitable local, state, and federal laws and practices had a huge impact and ripple effect on our communities, our families depended on the resources and network of assistance we offered. It requires schools to be far more than simply a place where kids can study.
These principles are much more crucial today. Plain and clear, the larger institutions in place have failed our disadvantaged children. This is not the moment for us to let them down as instructors. We must overcome the challenges, strengthen our connections with our teams, and do all possible to ensure that another generation of kids is not left behind.
If we fail, the ramifications will be disastrous.
While all children are at danger of learning loss as a result of the epidemic, research suggests that school closures may exacerbate achievement gaps between students of different socioeconomic backgrounds and between white students and students of Black and Latinx ancestry.
Over the first several months of this year, I had the pleasure of witnessing the methods of some extremely diligent, committed, and intelligent educators while working with school leaders from around the nation as they started moving to hybrid learning models. Those that were successful used methodical, well-thought-out strategies. Supporting kids' social and emotional growth, as well as being sensitive to the pain that children, families, and staff have endured, were among them.
Ally Wright, the principal of Ednovate-South LA College Prep High School in Los Angeles, implemented intensive one-on-one outreach to families. Principal Wright paid home visits to any kid who was consistently absent or who had a recognized problem that required more personalized care. She held focus groups with students to check up on them and obtain feedback on social connection. Teachers may lean in with relationship-building activities and social and emotional check-ins during advisory time to maintain a pulse on all kids' needs.
The real goal of all of these efforts is to ensure that our kids are ready to succeed in life.
As we return to full-time, in-person teaching, educators must resist the temptation to jump right into academic rehabilitation. The urgency of unfinished learning is true, but first and foremost, the appropriate atmosphere must be restored in order for instructors and students to flourish. Take the time to address inequalities, rethink processes, and build meaningful relationships with kids, families, and staff.
Inequities must be addressed.
Make strategies to deal with the trauma that our communities have faced and may face in the future.
Rethink your systems.
Set aside time for pupils to restore habits and processes. Routine gives you a feeling of security and normality. Rethink previous routines and make sure the ones you create for reentry promote a learning atmosphere where kids feel recognized and cared for.
Make meaningful connections again.
Make a deliberate effort to restore (or create) connections among kids, families, and staff, some of whom have never met in person.
It's been a privilege to see what school leaders have done to guarantee educational equality for their kids, particularly at this pivotal juncture between the epidemic and the world that lies ahead.
Accellerate Institute provided the photos.
Watch This Video-
"criticism of education system" is a phrase that has been used to describe the current state of the education system in America. The "Now Is Not the Time to Let Down the Students Who Need Us the Most" is a response to this criticism.
Related Tags
the opportunity myth discussion questions
how to improve public education in america
the opportunity myth pdf
education issues in america 2021
american education system failing statistics